Reclaimed Pitch Pine Flooring
Pitch pine was originally widely used in Victorian homes for it's durability, quality and distinctive grain. Not only is it a brilliantly unique choice, but it perfectly ties in to period buildings or barn conversions where large width boards have been specified.
But these aren't the only reasons you'd want Pitch Pine flooring in your home. Firstly, it's durability makes it a great choice for any home. As such, it can stand the test of time if treated with the care and respect it deserves. In short, it's a high quality timber that'll stand the test of time.
Secondly, it's warm colouration – which only gets warmer after laying – makes it perfect to bring a rustic, cosy aesthetic to your property. In this vain, as pitch pine typically comes unfinished – you'll have the option to finish it in any way you like, ensuring it matches the colour palette of your home.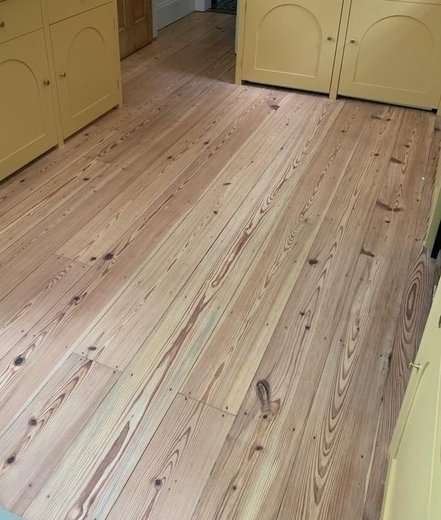 Thirdly, Reclaimed Pitch Pine is an environmentally sustainable option. As a softwood, pine itself grows far quicker than oak, which already makes it more suited to such environmental practices. Then, as we also source, reclaim and up-cycle all of our wood, this adds yet further to the 'green' nature of our pitch pine.
And last but not least, reclaimed pitch pine flooring is far more friendly on the wallet than other hardwood flooring alternatives – without losing-out too heavily on quality. At generally around half the price of oak, mahogany and maple, pitch pine still stands up to the quality test compared to other softwoods such as fir.
Feel free to get in touch with us for more information, or alternatively you can browse our collection below.