Why Choose Us This Christmas?
Wanting to transform your home with reclaimed flooring in Leeds this Christmas? Look no further, here at Reclaimed Antique Flooring only 13 miles from Leeds City Centre, we have a range of 17 different floorboards for you to choose from. Reclaimed Antique Flooring provides all of our customers with 25 years of expertise in providing a variety of cladding and wooden flooring. We specialise in knowing the difference wooden flooring makes to a home, adding warmth and comfort. antique flooring adds a sense of unmatched character and can make an extreme difference to a room. 
Offering different styles of flooring we are able to guide and support you in finding the best flooring for your design, complementing any interior. Our craftsmen carefully finish each individual piece of flooring by hand sanding, waxing and staining. We pride ourselves on the quality of care and attention we apply when transforming all of our floorings, looking for any general unsuitability ensuring that your end product is perfect!
We ensure you that checks are carried out before purchasing for any signs of woodworm as well as checking there are no defects or faults with the timber. Once we are happy with our selected wood we then ship the timbers to our dry workshop and then start to materialise the wood into wall cladding or flooring.
Looking For Reclaimed Floorboards In Leeds?
Take a closer look at our range of products to find out more information.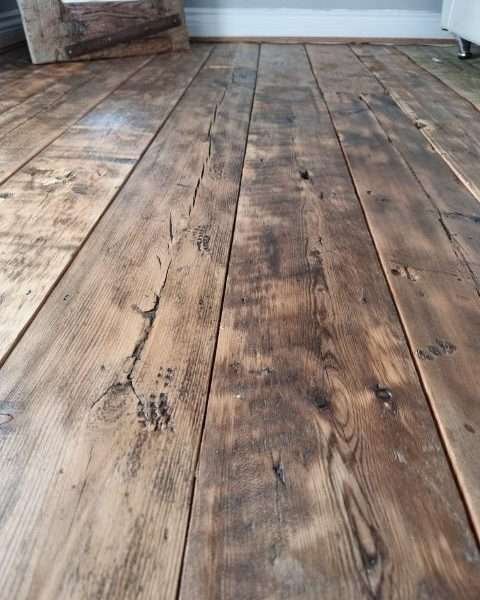 Bringing Your Room To Life
All of our products are ensured to add character to your property making it more welcoming and inviting. The use of our Reclaimed Wall Cladding adds a gorgeous and unique feel to any room, perfect when wanting to create a warmer and much cosier feel. A brilliant location for wall cladding would be in a living room adding a little something different rather than your average walls. With a selection of lengths to choose from or provided all at a single lengths, you can really use your imagination to bring your design to life! We also give you the option of being able to mix shades that our helpful team can assist you with. 
The Victorian Rustic Shabba Floorboards have been reclaimed from an old, demolished school in Leeds. These give off a unique country manor feel that would work well when wanting to create a more homely aesthetic. Our craftsmen handle these floorboards with care when gently sanding off their original thick layer of gloss paint, creating a more rustic antique look. the beauty of our Reclaimed Antique Flooring is that it can be incorporated into any bespoke design. Reclaimed flooring compliments a more modern property as well as older and more antique buildings.  
Our most unique flooring has got to be our Reclaimed Sports Flooring, which has been reclaimed and sourced from schools across Yorkshire. These floorboards tend to be purchased by people with unique and creative tastes. Many of the floorboards will be left with original sports markings for a rustic feel and can be repurposed for a new functioning gym.